Analysis: Diamond Ban Lifted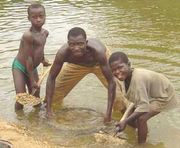 The UN Security Council lifted the ban on Liberian stones last week. The Center For Global Development
blogs
on the Liberia diamond issue today:
This is potentially great news for Liberia. In particular, diamond revenues could be used to fund much-needed post-conflict reconstruction programs and create jobs in a country with an unemployment rate hovering around 85%. However, as my colleague Todd Moss and I have noted, the Kimberley Process can only do so much. And the transition from blood diamonds to "development diamonds" is much harder in a place like Liberia which has a high concentration of alluvial diamonds. Unlike Kimberlite diamonds (which require intensive, centralized operations), alluvial diamonds lend themselves to artisanal, decentralized mining, which leaves the Liberian diamond industry relatively open to smuggling and grey market transactions. This could threaten to rob Liberia of much needed revenues and undermine fragile state institutions.
Thanks again, Sarah.